The Premium Model Buy Time Jet Wash from Electrajet has exciting and innovative features, UK first to market functions including – Iron extract wheel cleaner and a super foaming lance, both have a dedicated retractable hose reel assembly. Afurther enhancing feature not usually incorporated in a self-service standalone Jet wash, is a reverse Osmosis Streak Free rinsing system which produces crystal clear final rinse water.This feature will leave your car streak free, when driving off or stand drying, will not leave the usual white spotting associated with water quality and chemical residue.
This equipment is fitted with WRAS approved components and valves, which comply with backflow prevention laws and have water storage tanks manufactured with type AB air gaps, overflows and weirs.
These fantastic features, fresh sharp looking design, the latest in operating and control technology, along with inbuilt coloured LED downlighting, have proven the units can generate up to THREE times more revenue on sites, than prior existing equipment.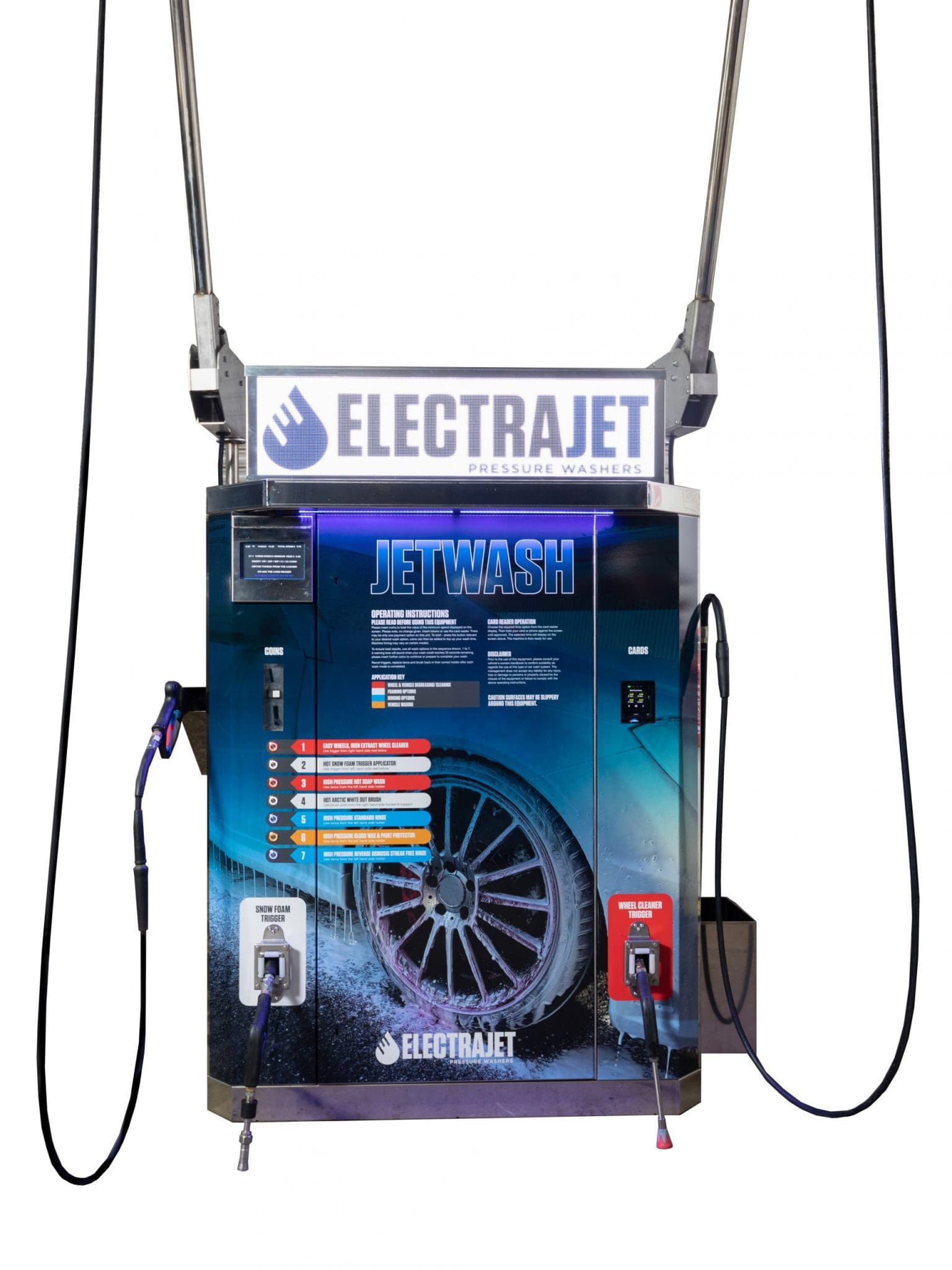 Our Cabinets are manufactured using 316 marine grade Polished Stainless-Steel and constructed with the highest quality components, built to withstand the harsh and demanding environments of a forecourt and or car wash location. Supplied standard with two-point safe locks system, we offer additional optional security with our heavy duty shrouded circular padlocking attachment. A robust stainless steel 3mm thick safe enclosed in the cabinet fixed through the internal shelf making it impossible to remove without cutting equipment. The coin draw is secured by a further heavy-duty bracket and circular padlock making prising or cutting of the lock extremely difficult. The coin shoot enters the safe through a slot, stopping known methods of coin catching to take place. A ground safe is also available which is mounted in the base of the cabinet and internally bolted to the concrete floor.
The cabinets are acoustically foam insulated providing additional protection against the elements and surrounding areas for operational noise. Official tests confirm they have neutral to no impact on surrounding noise levels, making these units suitable for the most built up or close residential area placement.
These security features give piece of mind to the owner knowing his revenue is safe and secure within the unit. A rapidly growing option is to go contactless only, eliminating the need for cash handling and safes.
Seven Wash Modes
With Seven wash modes in total, you can be certain of a high-quality wash. With a clear application key, colour coded to allow the user to identify what type of wash function they are selecting and application tool to use
Wheel Cleaner Applicator, Iron Extract Wheel Cleaner
UK first to market bespoke Wheel Cleaner Applicator, Iron Extract Wheel Cleaner. This highly effective product attacks the brake dust, dirt and other particles on wheels resulting in a thorough clean. To add to the customer excitement and experience the wheels will turn red as the solution works its magic! Non-hazardous consumer safe product.
Hot Snow Foam Trigger Applicator
With a dedicated retractable hose reel, the Hot Snow Foam Trigger Applicator generates a thick luxurious foam, the whole vehicle can be covered quickly and efficiently allowing time for the wheel cleaner to soak, giving a fantastic customer experience.
High Pressure Hot Traffic Film Remover Wash
High Pressure Hot Traffic Film Remover Wash. This high-pressure producing non caustic, safe, foamy traffic film removing solution, which will remove all stubborn grease and road grime from the vehicle and wheels. Used to blast off the foam whilst removing any grit or small dirt particles from the vehicle ensuring a clean surface ready for the brush.
Hot Arctic White Out Foam Brush
The thick hot laver produced by the Hot Arctic White Out Foam Brush allows effortless gliding over the paint work, making brushing effortless whilst still providing a high level of surface cleaning. With super soft long-haired brush and insulated pole, complete with swivel, use of the brush is a joy when working your way around the vehicle.
High Pressure Standard Rinse
High Pressure Standard Rinse. The first of two rinsing sequences uses full high-pressure output. Giving a quick and thorough rinse to disperse the remaining foam left from the previous wash modes whilst removing any remaining dirt missed.
High Pressure Gloss Wax & Paint Protector
The High Pressure Gloss Wax & Paint Protector mode produces a high shine finish and rapid water beading whilst giving your paint work a protective coating from the elements. The result is a sparkling polished like finish with minimal water remaining on surfaces
High Pressure Spot & Streak Free, RO Final Rinse
The reverse Osmosis system in our jet washes give genuine streak and spot free finishes. High-Pressure Spot & Streak Free, RO Final Rinse, means you are final rinsing with completely clean pure water, the results are, no white spotting from hard water or chemical residue.
The results are outstanding with nothing but customer praise and satisfaction.
Various vend options ensure an easy way to make payment giving increased revenue opportunities for owners.
Large HMI vandal proof touch screen display.
Machine presented in waterproof decal with colour coded instructions plus H&S disclaimers
Plc controlled compressed air blow-down frost protection, internally heated & insulated cabinet
Customized Branded Decal Available
Delivery to site & removal of existing equipment
Installation of machine to a prepared base with services
These technologically advanced features make this machinery the most powerful Jet Wash on the market, proven to increase wash revenues on site.
As an optional feature, Jet Wash can be fitted with an LED Advertising screen which will further enhance revenue opportunities. Create your own advertising campaigns and work together with your existing supply chain to increase footfall for other products. This and an energy saving floodlight to keep your bays bright and user friendly, enticing customers to your site, really do give you the complete package for your forecourt site.
Heavy duty 180 degree rotating sprung booms assemblies
7 Exciting wash modes
Dedicated stainless steel wheel cleaner reel
Dedicated powder coated snow foam reel
Super soft brush & insulated pole
Short reach easy handle high pressure lance
RCD safety system
Plc controlled computer system
Adjustable HMI interactive touch screen
Large colour HMI display
Forecourt wash function
Engineer mode function
Chemical purge system
Wheel cleaner purge system
Total frost protection
Feed line protection
Compressed air blowdown
Real flow control
Legionella control
Over temp control system
Night time security
Fitted with fully auditable vend meters
Bespoke custom branding
Heavy duty door locking system
Heavy duty ground safe
Led advertising screen
Energy saving flood light
Mobile data retrieval system
Voltage: 230v Single Phase or 415v Three Phase
Operating Pressure: 120 bar (230v) or 150 bar (415v)
Output Temperature: 30 – 45°C Variable
Operating Temperature: -20°C to 70°C
Water Output: 780 LPH
Water Tank Capacity: 105L – 40 Cold/65 Hot
Heating Capacity: 6kw (230v) or 12kw (415v)
Reverse Osmosis Filter: 3 stage pre filter and final 4040 membrane
Reverse Osmosis Capacity: 105 litres
Machine Dry Weight: 320 kg
Boom Hoses: 8.5m
Reel Hoses: 8.5m
Sacrificial Boom Hoses: 0.3m
Sacrificial Reel Hoses: 1.2m
High Pressure Nozzle Size: 2504
Installation Specification: See our downloads spage
Contactless Only, Visa, Mastercard, Apple & Android Pay
Contactless, Swipe and Card Input
PSD Codax payment terminals
Fob Activated Vend
Coin Only
Token Only
Free Vend
Or any combination of the above payment options

Capital Purchase
All equipment purchased outright is inclusive of the following:
Delivery and installation on site *
12 months parts and labour warranty
Optional extended warranties
National Next day call-out
Free chemical starter pack
* To a prepared site from our specification sheets, in downloads section

Rental Agreement
All equipment under a rental contract is inclusive of the following, relevant to the contract length:
Delivery and installation on site *
Full service, breakdown, and maintenance plan
National next day call-out
Revenue share kept by you
With or without chemical supply and or top-up
* To a prepared site from our specification sheets in downloads section

Revenue Share
All equipment under a revenue share contract is inclusive of the following, relevant to the contract length:
Delivery and installation on site*
Full service and maintenance plan
Next day call-out
Chemical supply or top-up
* To a prepared site from our specification sheets in downloads section
For products with a coin mechanism, the coin count will be monitored via a monthly visit or
via a web portal, dependent on the product.
Visit
Unit F1, Glasgow North Trading Estate,
24 Craigmont Street, Glasgow, G20 9BT
Call
0845 8500 666
0141 946 0441